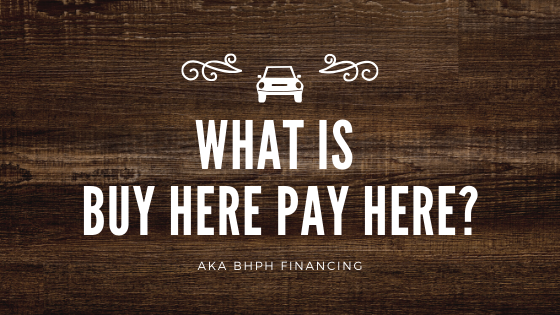 What is Buy Here Pay Here Financing?
AKA BHPH Financing
Buy Here Pay Here financing is a fantastic way for credit-challenged buyers to get into a vehicle that could change their life. Help them get to work, pick up their kids from school, and make the first steps towards building or repairing their credit. Most BHPH dealerships do not check credit. Instead, they have an alternative approval process.
In some cases, it's as easy as proving that you've been on your job or in your residence for a certain amount of time. In Norwest Auto Sales case, the required time on job/residence is six months. This time doesn't have to be continuous if you quit your job for a better opportunity or moved from a friend/parents' house to a place of your own, no worries.
The major premise behind BHPH financing is not having your credit checked and making your biweekly/weekly/monthly payment to the same dealership that you purchased the vehicle from.
Why should I use Buy Here Pay Here Financing?
I'm Trying to Buy a House

Buying a home is a huge step in one's life; it is the first step in becoming truly independent. Opening an auto loan can significantly affect your Debt-to-income ratio and harm your house-buying power.
I have no credit

It is difficult to get traditional financing when there's no credit reporting on your credit report. BHPH can help to get into a reliable vehicle and start your automotive career.
I have bad credit

Credit scores have a substantial effect on your life. Most traditional financing routes will deny those with bad credit. No matter what is affecting your credit from Bankruptcy, Repossessions, Slow Pays, Past Due Accounts, it doesn't affect your BHPH approval.
I Have Open Auto Loans

Most finance companies that rely on a credit report will not accept another auto loan if there is already one showing on your credit report. If you need a second car and already have an open auto loan, BHPH financing may be the way to go.
Due to the lack of credit checks, most dealerships can't report to the credit bureaus. They can produce a "letter of credit." You can send this letter into the credit bureaus, and they have to take it as a credit reference. If your payment history is good, then the credit reference will be useful as well. The major drawback that most people think of with BHPH in mind is the interest rate; most dealerships offer 20% interest. Some dealerships lower their interest rates for various reasons, from Auto-Pay enrollment or a credit score above average.
Buy Here Pay Here Financing can be a steppingstone to financial success. It can give you time to build your credit and find another source of financing to pay off your loan with a BHPH dealership.
Buy Here Pay Here financing can set you up for future financial success. If you're starting your credit journey or trying to rebuild your credit, BHPH financing could be the answer you're looking for.
Buy Here Pay Here Financing isn't a step back; it's a steppingstone to financial success.